Trade shows and other vendor events are a fact of life for anybody in direct sales. They provide you with an opportunity to meet customers in person, helping you to forge personal connections and establish a rapport. In a world where an increasing number of sales transactions take place anonymously through online merchants, vendor events are a great way to personalize your brand, help build awareness, and generate sales leads. They are one of the most effective networking opportunities you'll find. An added bonus is the fact that you can stealthily gauge your competition.
At the heart of any event is the vendor booth. It's a great way to showcase your organization and draw in potential customers. Coming up with a plan for your booth well in advance will help maximize its effectiveness and spare you from any last-minute surprises.
Here are a few dos and don'ts to make your vendor booth a success.
DO: Choose an ideal location for your booth.
If you're attending an event that allows you to choose your spot, register early. Some locations are better than others; if you can find a spot near the entrance, your booth will be one of the first that attendees see. A middle spot is another good choice, as many people like to make a lap or two before committing to a purchase. Try to avoid less-desirable locations (areas with minimal traffic, poor lighting, or near restrooms).
DON'T: Wait until the last minute to plan your booth space.
Setting up a booth the morning of the event is stressful enough; if you don't have everything laid out and measured beforehand, you might find yourself in a mad scramble to get everything completed before customers start arriving. You can plot everything using a software program like Adobe Illustrator or go old school and jot it all down on paper. The important thing is to have it all configured first to ensure everything fits in the allotted space.
DO: Prominently display your company name. 
Sherlock Holmes might enjoy a good mystery, but you don't want to leave potential customers searching for clues to your identity. Bring a sign that clearly identifies your company name (and tagline, if relevant) and display it front and center—either hanging down from your table or above and behind you if you've got a tent setup. This can be especially effective when you're surrounded by other tents and hoping to stand out from the crowd.
DON'T: Lay out all your displays flat on a table.
Give customers an excuse to make a beeline for your booth by placing products and signs at various heights in a vertical display so they'll catch the eyes of people passing by. Nobody will elbow their way through a crowd if they don't know what you're selling.
DO: Offer a giveaway or prize. 
People expect free swag at trade shows. It's a great way to entice people to stop by your booth even if they aren't interested in your product (this is your opportunity to turn on the charm and amp up those sales skills!). Food is a great motivator; 70 percent of trade show attendees want a snack or beverage while they're wandering the aisles. Other options include branded merchandise such as pens and calendars, or raffle prizes—requiring the person to fill out contact information is a great way to secure leads!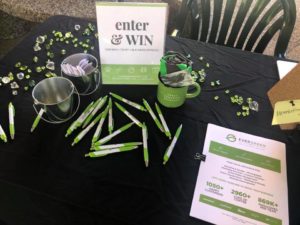 DON'T: Assume power or wifi are available. 
If your booth needs electricity or a wifi connection, make sure these are available when securing your spot. Yes, this is the 21st century, but not all event spaces provide access to these necessities, so do your research in advance. You might need to budget extra money for a power hookup, but that's better than going without. And if you're accepting non-cash payments, wifi is a must; without it, you might literally go home empty-handed.
DO: Wear a shirt or hat with your company logo. 
Make sure you're wearing clothing that helps promote your brand and increase recognition. Ordering custom apparel is simple and inexpensive and a great way to showcase your company—even after hours or when you're on a break, checking out the other vendors.
DON'T: Stay seated. 
Standing up gives the impression that you are interested and approachable and helps encourage conversation. It will make customers more comfortable looking at your products and they won't feel like they're bothering you by asking questions. You don't have to remain on your feet for eight hours straight, but limit your seating time to brief periods when there are lulls in the action.
DO: Promote your event on social media. 
Facebook makes it easy to add events and invite as many people as you'd like, and Instagram is a great platform for sharing photos of your booth and posting stories of the event as it unfolds. Even a well-timed Tweet is likely to increase foot traffic, especially if you offer an incentive to stop by ("enter our raffle to win a prize!").
DON'T: Forget to follow up with customers.
Make sure the information you collect from visitors to your booth (whether business cards, names on raffle tickets, or social media RSVPs) is tracked and followed up on. Don't worry about intruding on their privacy; attendees expect to be contacted. And the sooner, the better—you'll want to do so when the event is still fresh in their minds.