The Black Hills' most innovative movers and shakers will congregate in the Evergreen Media office for the second annual Startup Weekend in the area. Organizers Brian Rupert and Lindsay Frankenfeld sat down to give us the scoop.
---
What is it?
Startup Weekend is a 54-hour event over an entire weekend in which teams pitch and plan a business idea to present in front of a group of investors. And it isn't all fun and games—about 10% of Startup Weekend ideas become actual businesses.
The event kicks off on the night of Friday, September 13 as participants check in, eat good food, network, and give an optional idea pitch. The rest of the weekend is spent developing the idea into a business plan, prototype creation, and continued testing. It culminates on Sunday night when demos are presented to investors and local entrepreneurs.
The judges pick a first, second, and third place winner and they are given prizes – from free months of workspaces to consulting services like designing or web development.
"There's probably a dozen startup weekends every weekend across the world," said Brian. "So it's cool to think that other of these events will be hosted around the world the same time ours is going on."
Brian moved here from Iowa, where he had participated in "a few… or more Startup Weekends." He moved to the Black Hills and noticed that the closest Startup Weekend was in Sioux Falls, so he met up with Lindsay Frankenfeld and Dani Mason and the group hatched an idea to bring the weekend to the hills. The first Black Hills Startup weekend was held last year, and they know this year's will be even better!
Various sponsors around town help the event provide a high-quality experience to participants. Brian emphasized that there is good food, good drinks, and plenty of it.
"There's a high cost to that because we don't just do bologna sandwiches and store-brand potato chips. It's all high-quality food, because the idea is that good food fuels good ideas," he said.
There have been a variety of participants at past Startup Weekends, and they came up with diverse and creative ideas. From a scholarship for disadvantaged youth to go to high-end camps like gymnastics, math, or basketball camp to creating an app to find clean bathrooms.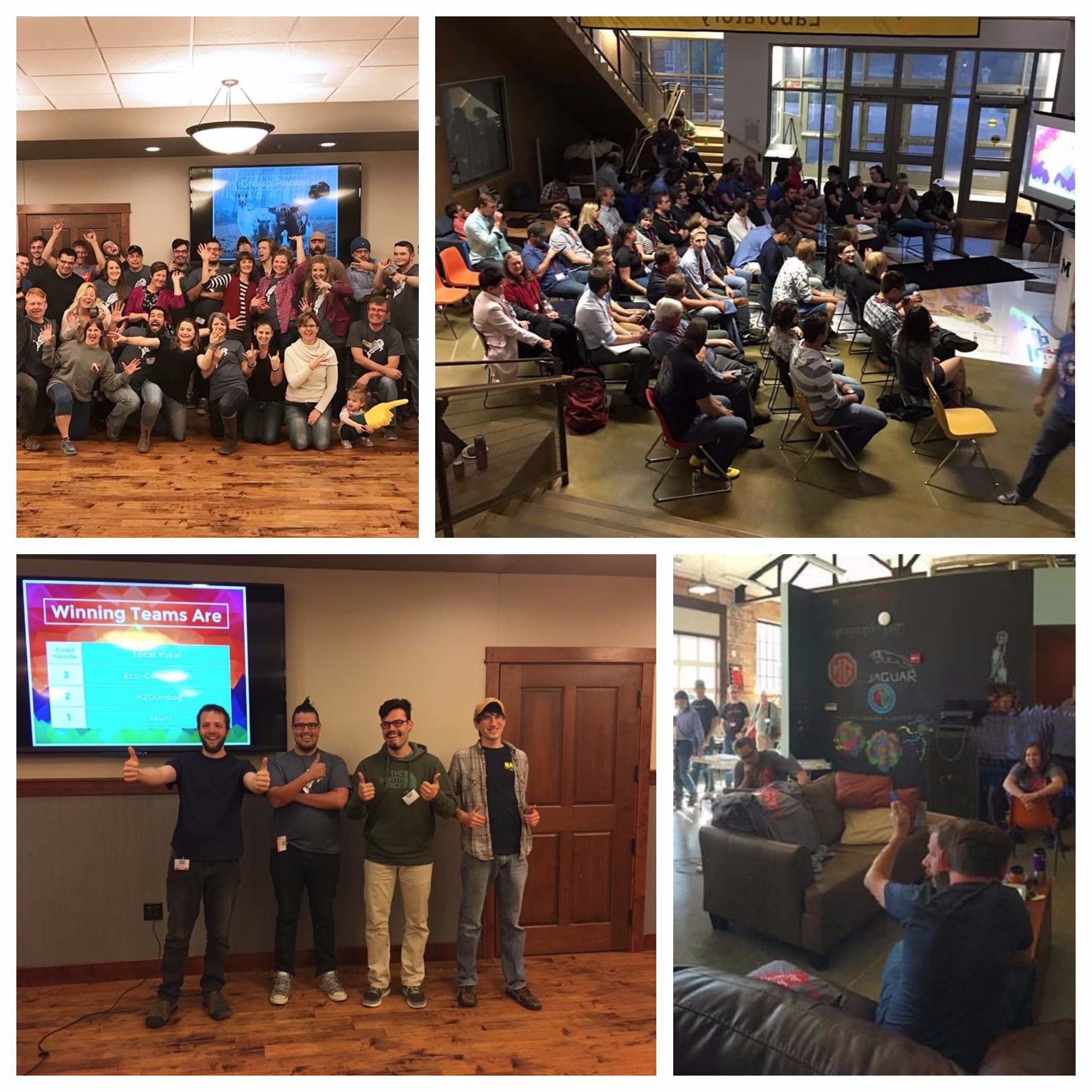 "One team of school of Mines students build an automated drink mixing system. They went and bought pumps, valves, and all the materials. They built an app and had a functional prototype. One of the judges actually reimbursed them for the cost of the building material for the prototype," Brian remembered.
The ideas are judged on three criteria: the business model, customer validation, and execution and design. When picking out the best of the best, judges ask themselves questions like: have they validated the need for their product with potential customers? Do they have a minimal viable product? Is there a financial plan? Did they go out and talk to customers and do surveys?
---
Set the Scene
For such an innovative weekend, of course the Evergreen Media office jumped at the chance to host it. When the organizers were planning, they tried to pick a space that had plenty of room and is a fresh, new creative environment in Rapid City.
When asked why they chose Evergreen, Brian responded, "Honestly? Because it's just cool."
"Part of the event is holding it in a unique and collaborative space, and Evergreen has done a great job of creating that," said Brian. "It's good to have it in an open area, so that teams can see what other teams are doing. There are also closed off spaces, like in the offices, for more private work within teams."
Evergreen's downtown location is also a plus, as part of the process includes getting out and talking to potential customers. Downtown has a higher density of people, so it is easier to get a larger number of interviews in.
"The atmosphere of a place like Evergreen motivates people and helps them think outside the box. So, I can't wait to see the ideas that come out of working in the Evergreen Media offices," explained Lindsay.
Next Steps
The cost to participate is $45 for the Early Bird price, which lasts until August 30. The regular event price is $65. Student costs are lower.
"This event is for everybody. You don't have to be a developer or designer—all you need is an idea. You don't have to pitch, you can come and just be on a team. It isn't a conference where you sit and listen to people talk. It is learning by doing," concluded Lindsay. "It gets you outside of your comfort zone enough to be beneficial to anybody, whether you're already a business owner or you're just a college student. It is a good experience for anybody to push themselves a little bit."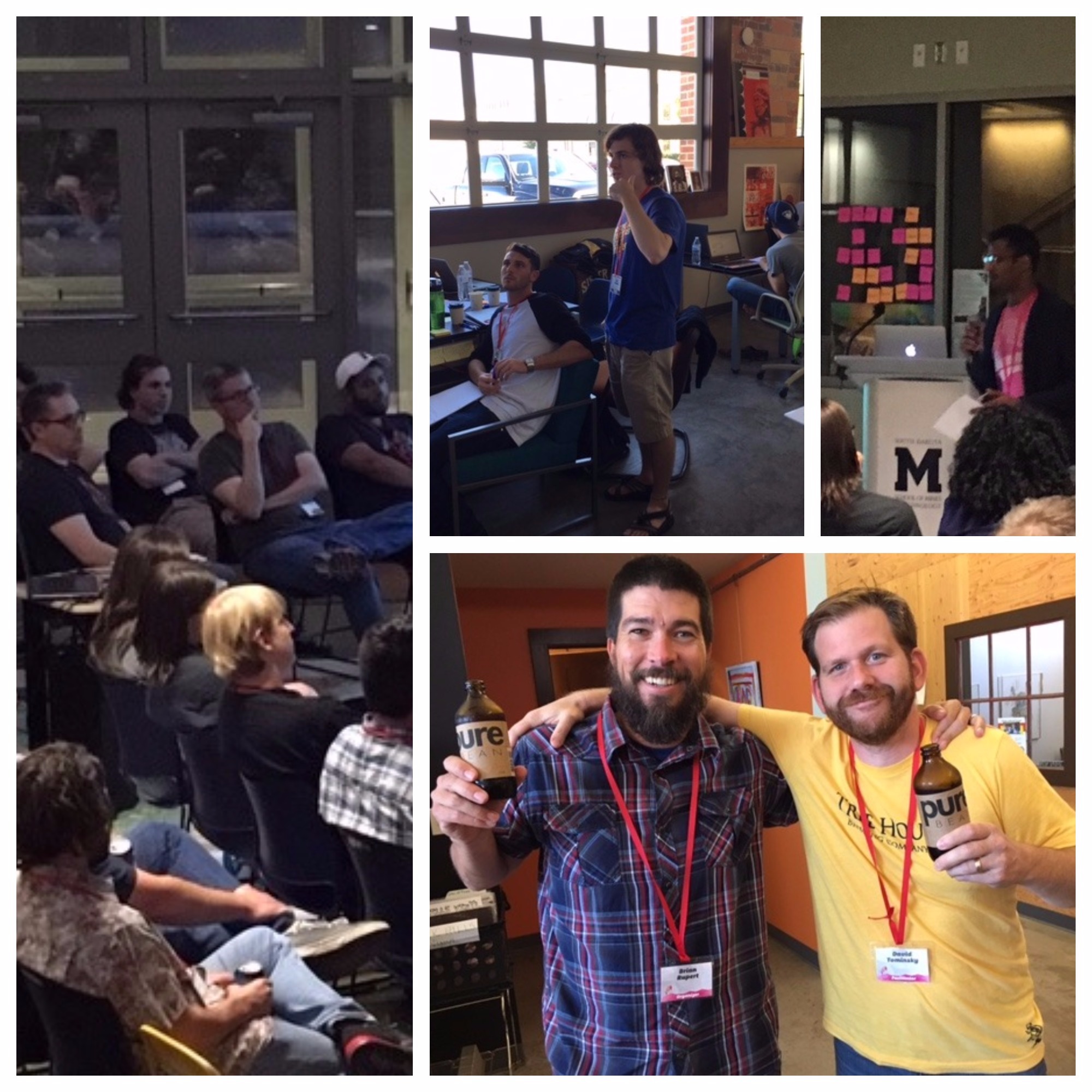 Photos courtesy of Startup Black Hills