A Renovation Timeline :: Part 6 :: November 2016
---
Months after the project began, we have uprooted from the Northern fringes of town and planted ourselves in Downtown Rapid City. We're finally here! and pleased to be part of the thriving downtown scene, calling many old friends (and lots of new ones) "neighbor."
In answer to your burning questions from the last episode of
A Renovation Timeline:
The Evergreen Media team officially moved into the new space on Tuesday, November 8, 2016.   

Cooper & Tucker enjoy daily walks to a grassy knoll near the courthouse a block or so away, and they've made lots of new downtown buddies.

Nope.

The Great Battery Mystery remains unsolved. One day we had batteries, the next day – no batteries to be found. New batteries have been purchased and the case remains open.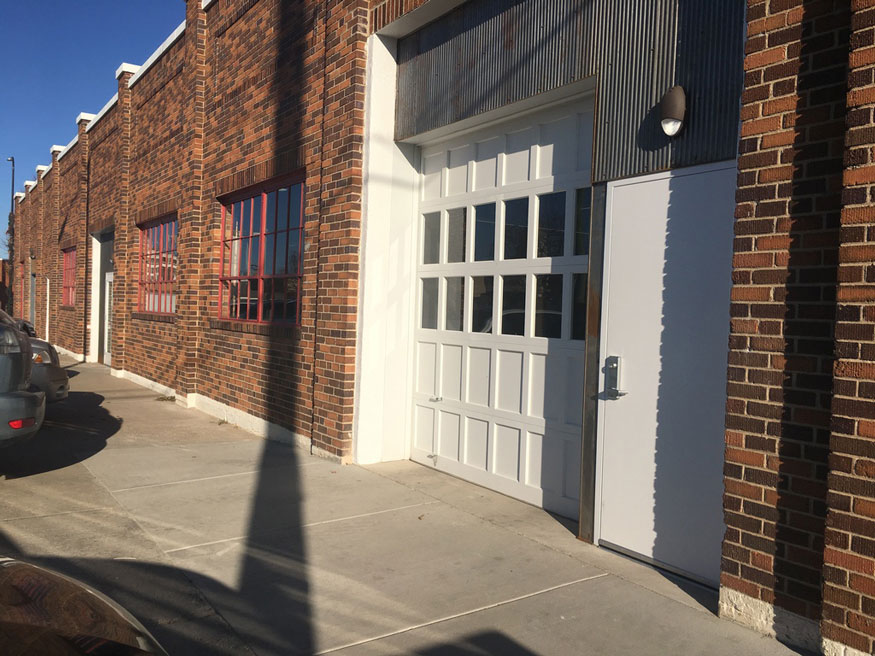 There are so many opportunities for us here at 329 Main Street! The cozy space we left behind is incomparable to the expansive space we're in now. A few of our favorite things:
Mobile Workstations.

Buh-bye cubicles!

Handcrafted mobile workstations in the center of our space are free to roam; electricity/internet connectivity spool down from the ceiling, dispensing enough cable to move desks toward the windows on a sunny day or closer to colleagues for project collaboration.

How cool is that?
Garage Door Living.

On sunny days we push a button on the West-facing garage door to let in fresh air and even more sunlight.  
The Living Room.

 Every bit of this space feels alive with energy, and for the first time we have an official conversation area in the form of our kitchen-adjacent living room. We'd love to hang out with you there on your next visit.
East of 5th.

We are pleased as punch to be part of the Downtown Rapid City collaborative association

East of 5th

.

The association celebrates the unique character of our neighborhood and provides a forum for conversations + activities that promote the vitality of this creative, innovative and progressive community.
New Opportunities.

 Our former digs lacked the space to host a gathering of any kind beyond an occasional pop-by visit. We will continue to hold gatherings offsite at venues across the Black Hills, and now we can host magazine launches, meetings and educational opportunities in house as well. We hope you'll join us soon!