A Renovation Timeline :: Part 5 :: October 2016
---
Our Downtown HQ is a marriage of old and new: Freshly painted walls meet scored concrete flooring; our open kitchen features pale blonde cabinetry just a few steps away from the reception area, backed by the age and character of a wall fashioned from reclaimed wood planks from the original building as it was years ago. The conference room is an eclectic combination of new and reclaimed wood, reinforced polycarbonate panels (say that five times fast!) and a vintage railroad shipping container – the perfect staging area for brainstorming sessions or the occasional karaoke performance, depending on the mood. Exposed brick reaches upward to a lofty open ceiling showcasing both original materials and shiny stainless pipes and joists, depending on where you look.
Our high-tech sign, made of the humblest materials, arrived and was unveiled amidst oohs and ahhs of approval. We dare you to guess what our classy new sign is made of when you visit – you'll barely believe us!
As the office came together, the staff held their breath and took a "Hurry up. And… wait. And we'll see…" approach to the project. A move in date was scheduled (and rescheduled), desk contents packed, furniture and artwork sold and our collective workaday-worldly-goods gathered in rows along hallways and in the front lobby of our former space.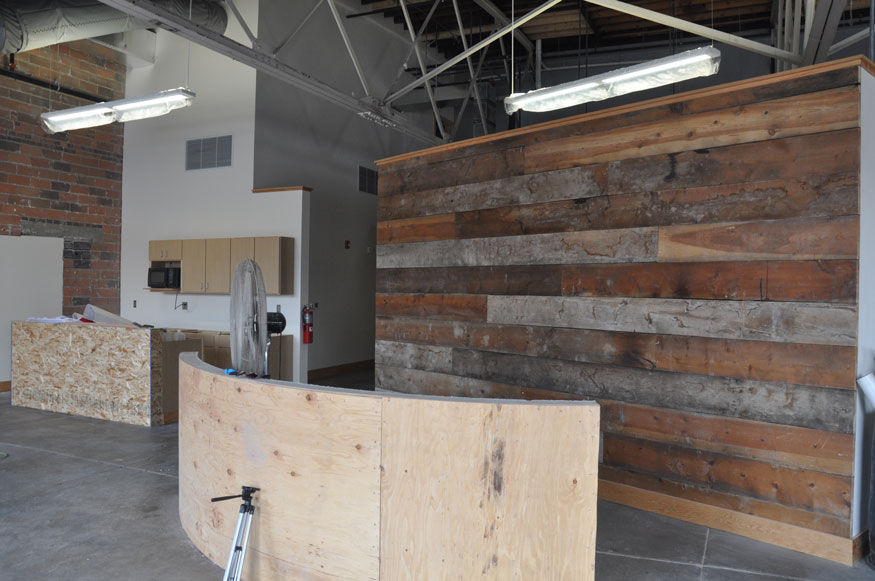 Did our intrepid crew of writers, editors, designers and client relations pros

finally

make it to the new office?
Did Cooper & Tucker discover their own "place of business" in the new neighborhood?
Find the answers to these and other mysteries in our sixth – and final – installment of A Renovation Timeline.