You might think of lip sync as karaoke for those who are too nervous to actually sing. We consider it a fun way to pay tribute to a musical artist or band! Every year, team Evergreen puts together a video featuring our staff lip syncing to a popular radio hit…and we do it for a great cause. Read on to learn more!
What is it?
If you follow us on Facebook, you have probably been bombarded with our posts about our annual Lip Sync Battle. 2019 marked our second year participating in this unique fundraiser and going head-to-head with Casey Peterson, Ltd. Things may have gotten a little competitive at times, but it was all in good fun and helped out an amazing organization in our community, Safe Families for Children Rapid City.
Here are the details:
EGM vs. Casey Peterson, Ltd. in an annual battle to be Lip Sync Champions.
Whoever raises the most money through donations earns the title and a trophy!
The theme this year was 80s music. Competitors had to choose a song, round up the team, and get to filming!
The fundraiser began November 1st and ended on Giving Tuesday, December 3rd.
What is Safe Families for Children?
Safe Families for Children has a mission to help families in crisis get back on their feet and stay intact. The nonprofit works to create extended family-like supports for desperate families through a community of devoted volunteers. Safe Families seeks to help parents in crisis while they get back on their feet by providing a loving, temporary home for children. Their stay may last anywhere from a couple of days to several months.
What's the Connection?
Casey Peterson & Associates is well-connected to Safe Families through their employees and their desire to give back and support community organizations — just like us! It's also a no-brainer for us to participate as one of our biggest publications is Black Hills Parent Magazine. We really like to do everything we can to help children and families throughout the Black Hills!
EGM's Experience
Watch our video here!
"Giving back is a part of our company culture," explains Rick DenHerder, our owner. "We love supporting the organizations that do so much to support the community we love. It's fun to get involved in unusual ways like the Lip Sync Battle with Casey Peterson. This gives us a chance to use our creative skills for something out of the ordinary and a great cause."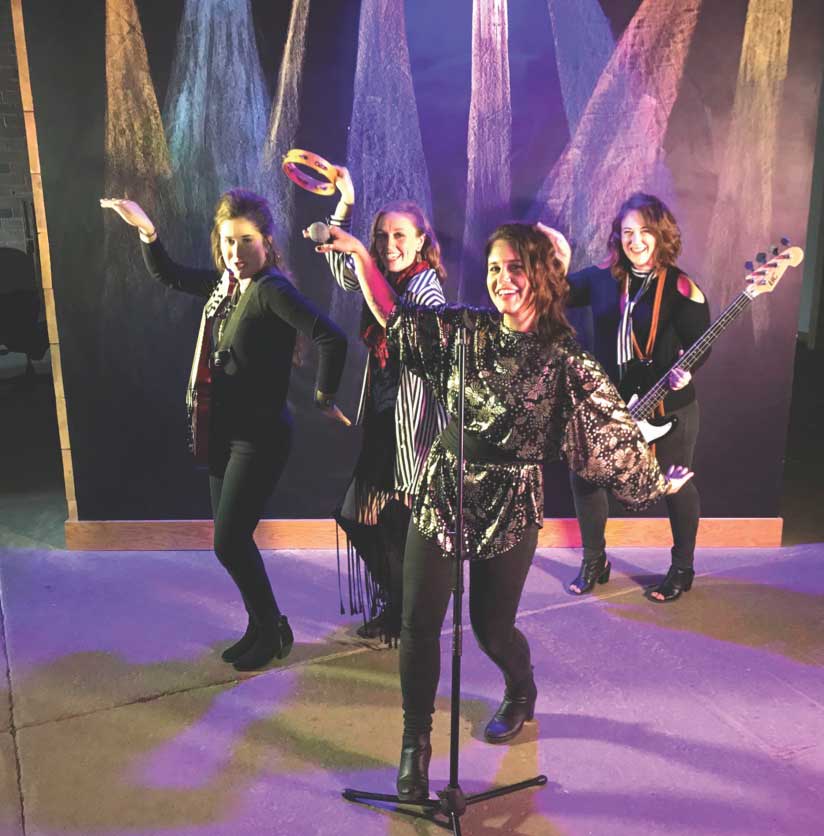 Our social media manager Jen was tasked with planning the video and running the social campaign for the battle. She recounts, "It was so much fun planning and executing our video! I turned to my coworkers for ideas and input and it came together so well! We watched the 'Walk Like an Egyptian' music video, and we just knew it was the song we wanted to perform. Getting local businesses in the downtown Rapid City area to participate was a bonus, and we wanted to get as many people involved as we possibly could in order to make the biggest impact and raise funds for Safe Families for Children Rapid City!"
Jesse did all the filming for the video, and he was the perfect man for the job as our staff photographer. "I had such a great time working on the lip sync video this year!" he says. "Everything seemed to come together so perfectly and the girls were amazing! It's a win-win when you can raise money for a good cause while having some fun at the same time."
This Year's Outcome
The competition was all in good fun and the point was to give to an organization that truly deserves it. Safe Families was the perfect choice with all the good things they provide to the community. Unfortunately, EGM will not be bringing home the trophy, but maybe we'll get 'em next year!
We held the lead for most of the competition and then the day before SD Day of Giving, the Casey Peterson crew received a couple of amazing donations that gave them quite a cushioned lead. You can check out their Facebook page here to go watch their 80s clips! EGM ended up raising $290 for Safe Families, while Casey Peterson came in with a whopping $840!
Thank you to everyone who participated, donated, and followed along for all the fun!