Since the early 1900's, the American Advertising Federation (AAF) has been unifying the voice of advertising and connecting professionals across the nation.
In 2016, Evergreen Media entered into our local chapter's American Advertising Awards — one of the industry's largest creative competitions, attracting nearly 35,000 professional and student entries each year across the country. We walked away with a Silver for an external client project and knew we would be back.
This year, we are honored to announce Evergreen Media has won both a Gold and Silver ADDY for two client projects we've had the opportunity working on this past year.
Entries that receive the coveted Gold ADDY for being recognized as the highest level of creative excellence are automatically forwarded onto the next tier of the competition. Follow along on Facebook as we hear more details!
CRAZY HORSE MEMORIAL WEBSITE – GOLD
Our goal with this new site is to welcome both visitors and contributors to an easy-to-use portal leading them through the story of the dream the team at Crazy Horse Memorial has dedicated their work towards.
Planning your visit to Crazy Horse Memorial is now easier than ever. With a click of a button, travelers will be encouraged to read about the dream, learn about the heritage fondly featured at the site, and give them the information they need when making arrangements to tour the campus, see the mountain, visit the museums, and embrace the story of Crazy Horse Memorial.
The new website is interactive and is visible in the latest mobile phone technologies with high search engine optimization and web accessibility for users of all abilities. These details coupled with visual enhancements to showcase pieces of the Memorial and Foundation exposes the events and news of Crazy Horse Memorial to Storytellers and visitors alike.
ASCENT INNOVATION CAMPAIGN – SILVER
This Integrated Branding Campaign was such an exciting opportunity for Evergreen Media to stretch our creative muscles. Coming to us as the Black Hills Business Development Center, our team – along with insight from board members and community leaders – developed the name Ascent Innovation to encompass all that is, and will be happening with the incubator.
For this project, we were able to develop a full logo design and brand identity, as well as the business collateral needed for daily operations and function – from business cards and letterhead to building signage and parking signs. Custom photography was set up and shot of multiple industry tenants housed at the Center and a custom-tailored website was built to boast an array of information.
Ascent Innovation is expanding from the SDSM&T Campus to E. Main Street, so promotional materials were at the top of our list to develop. Rack cards, lobby screens, banners and exhibition materials, as well as promotional items were created to help tell the Center's story. In addition, presentation decks with an imbedded custom video were created to accompany a custom-built printed presentation folder to spread the word and mission of Ascent Innovation.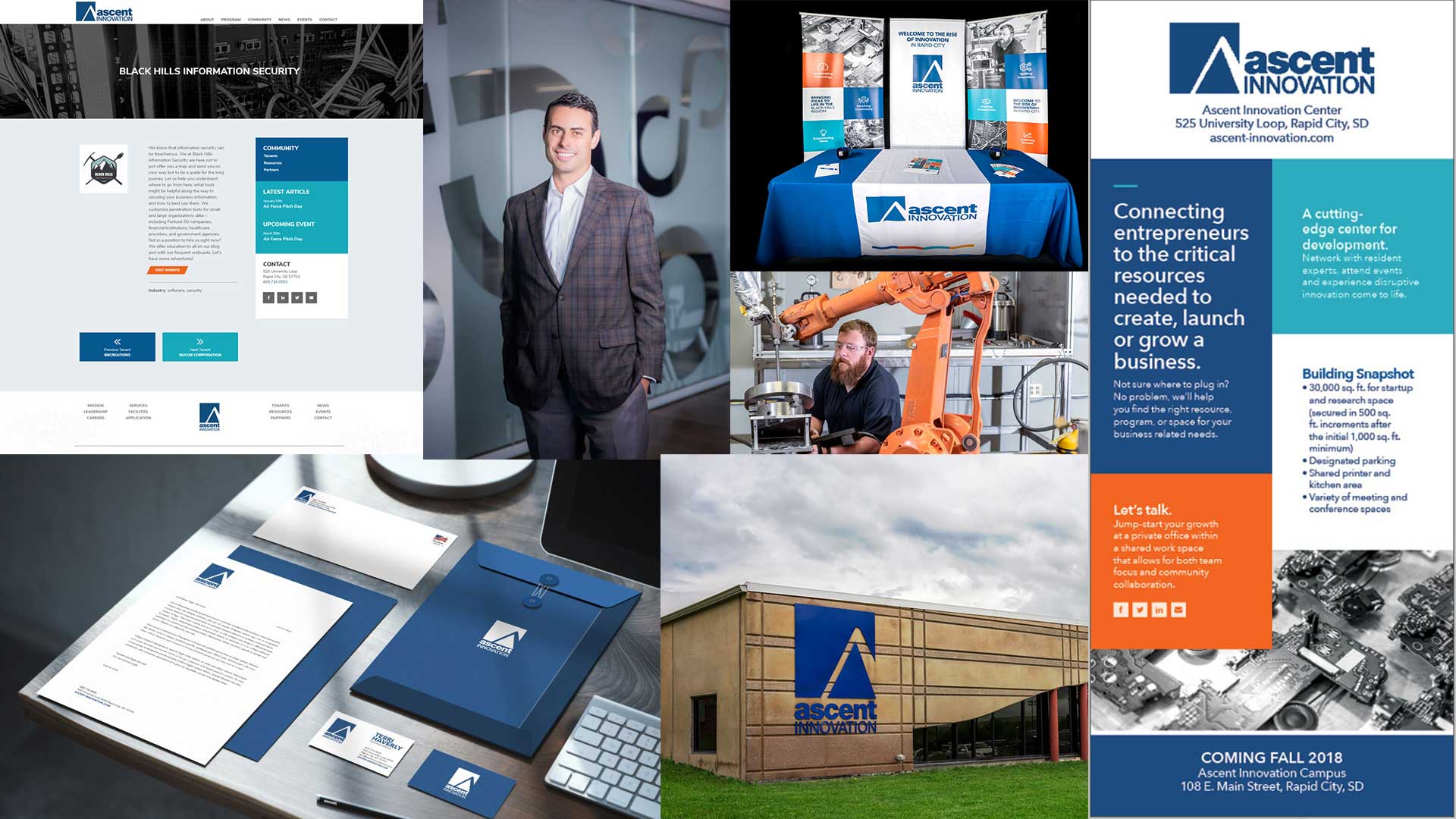 A SPECIAL THANKS
We want to give a special "Thank you!" to our contacts at Crazy Horse Memorial and Ascent Innovation for giving us the opportunity to work alongside you. We are incredibly grateful for you.
We also want to thank our internal and external team members [that's you Randal!] for their contributions to making this happen.
Here's to the next step!
Wish us luck!