Black Hills Bride :: Something NEW in 2017
The Evergreen Media team has had a beautiful relationship with Black Hills Bride magazine since the publication was launched in 2009. Like any meaningful relationship, Black Hills Bride has adapted and evolved since that time, and we are confident this year's magazine is the best yet. Read on for a sneak peek of what you can expect in the pages of Black Hills Bride, and pick up your copy of the 2017 issue everywhere brides want to be across the Black Hills—on stands now.
Something Old
You'll hear about the great new features in this edition of Black Hills Bride in just a moment, but rest assured—we've honored our tradition of covering every topic that matters to brides-to-be. From fashion & flowers to catering & cakes, location, videography and of course, photography, we provide planning couples the information they need to make their big day everything they want it to be.
Black Hills Bride is filled with wedding day inspiration—and so much more!
Something New
Over the years, brides have told us they want even more practical planning advice and tools to use when creating their dream wedding. This year, Black Hills Bride is not just a bridal magazine—it is a full on planning guide for brides. Think more checklists, budgeting and accounting, a venue comparison chart for easier decision making, a sequence of events for the big day… For many women, planning her wedding day is one of the most detail-oriented tasks she will undertake. The average bride-to-be does not have major event planning experience—but with our easy-to-use layout, Wedding Planner and helpful advice throughout the magazine, she doesn't have to.

Something Borrowed
Black Hills Bride offers practical content for every aspect of wedding planning, but it is also a lookbook of incredible ideas in floral design trends, bridal gowns, bridesmaid dresses and men's suiting, delightful culinary and dessert options, scenic locations… If you spot a familiar couple or backdrop, that's because images throughout the magazine are borrowed from talented photographers across the Black Hills. From the cover bride to every charming couple featured as a Real Wedding and even the majority of advertising content, the brides, grooms and attendants you see are the real deal—happy couples celebrating their love right here in the Black Hills.
Something… Blue?
Blue-petalled flowers, crisp navy suit jackets, a vintage blue Pontiac GTO (see page 68), and plenty of wide open blue sky… the stunning Black Hills of South Dakota are an idyllic setting for joining together as husband and wife, and a journey through the pages of Black Hills Bride proves the point.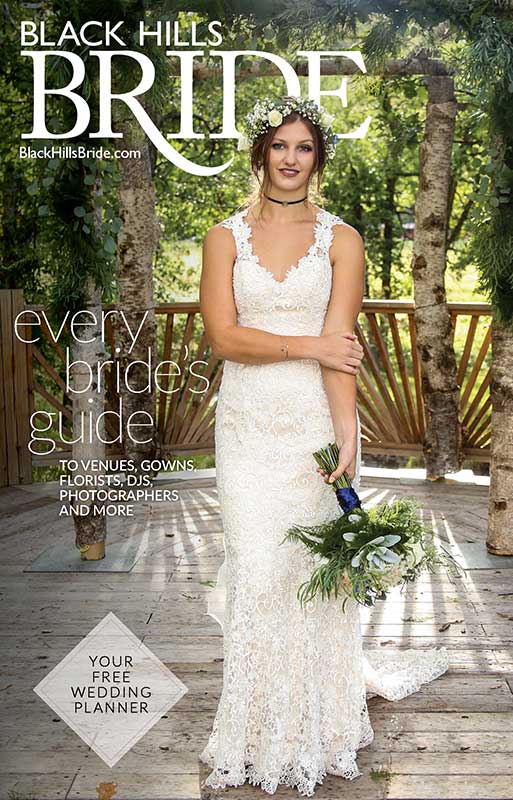 Congratulations to newly engaged couples in every corner of the Black Hills. We look forward to sharing your love story at BlackHillsBride.com!
And to the floral designers, bakers & chefs, hosts & hostesses, beauticians & stylists, dressmakers & men's clothiers, officiants, limo drivers, DJs, videographers, photographers and others who help make dream weddings a reality for Black Hills couples, thank you for allowing us to be part of this vibrant community of craftsmen and service professionals. We love sharing your stories in the magazine, online and on social media, and look forward to many more happy years together.
The Black Hills Bride Team