This time of year is always bittersweet. It's a time that is crazy busy – planning for Q1, trying to get through Q4, holidays, and events…but, it's also so much fun to look back to the beginning and see how far we've come. I hope you enjoy looking at our year in review as much as we enjoyed compiling it and reflecting on how lucky we are to work with such amazing people and do what we love each and every day.
January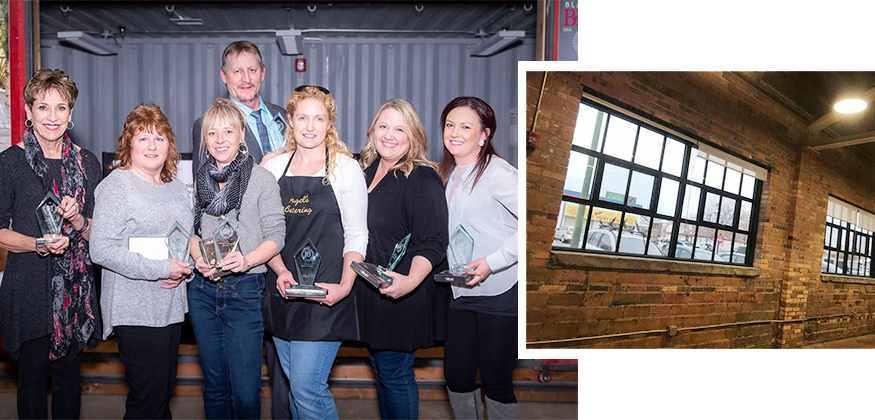 • We celebrated 10 years of Black Hills Bride (link) with our advertising partners including these amazing vendors who have supported our work since year 1. THANK YOU!
• We got new windows! You may laugh, but original windows in a brick building with concrete floors got a tad chilly in the wintertime.
• Stephen Peot video launched an incredible video of our team along with Evergreen Media's story. He did such a great job, and we had so much fun! Click Here to Watch
February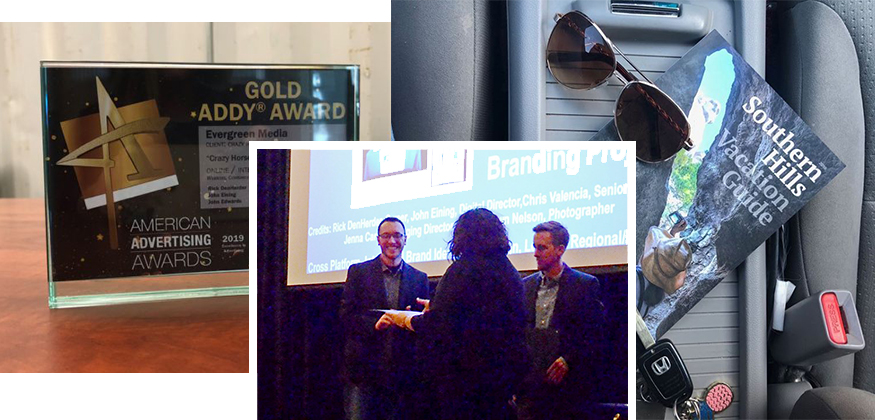 • The Evergreen Media team received a GOLD ADDY award for the Crazy Horse Memorial® website and a silver award for Ascent Innovation's branding (Click Here).
• February was also the release of our FIRST issue of Southern Hills Vacation Guide. (Read it Here) This collaboration with the four Chamber of Commerce departments in the Southern Hills was such a great experience, and we are eager to see the 2020 issue in January. (View More)
March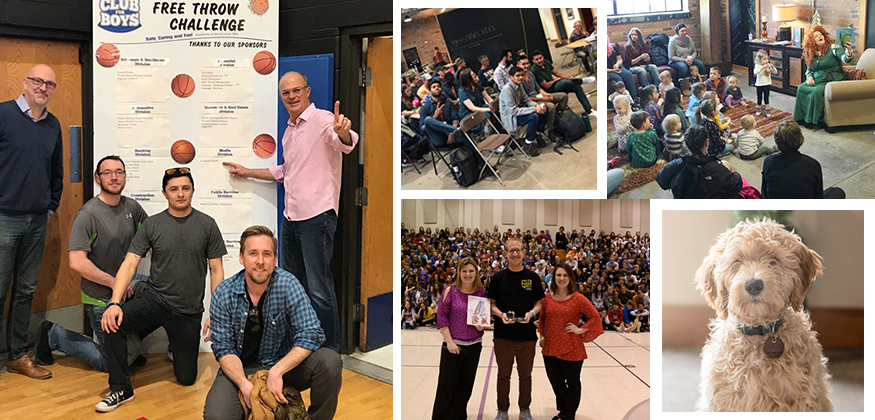 • Each spring, for the past three years, Black Hills Parent magazine has featured five amazing teachers in the Black Hills. (View Here) This year, we teamed up with each teacher's principal and threw them a party when we awarded them with their engraved apple.
• We had the opportunity to host Startup Weekend Black Hills – an innovative, entrepreneurial event, too. It was a great experience to watch these young minds compete for top awards by coming up with creative solutions to miscellaneous issues.
• In celebration of National Reading Month, Black Hills Parent organized a Romp & Read event! Teaming up with Bunny's Heroes, Music Time, and Black Hills Reads, we had 23 kiddos come to story time and play.
• On March 21st we welcomed a new Puppy Pal to our team – Sully Bear!
• We also participated in the Club for Boys Free Throw Challenge, a fundraising event for their community programs. We took #1 for media! (See it Here)
April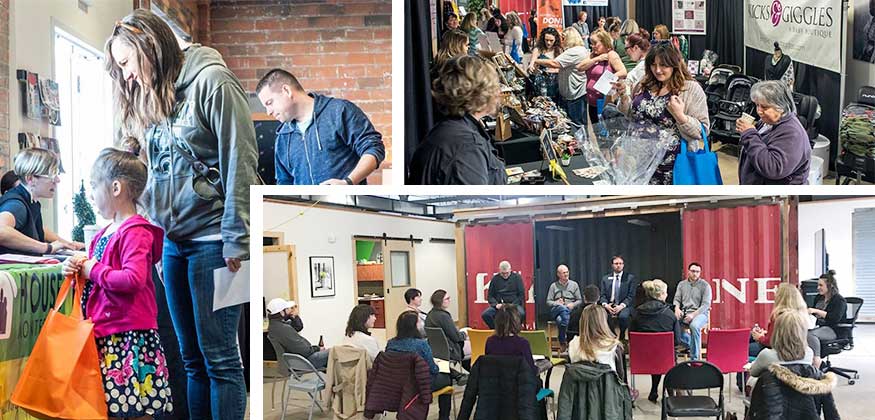 • A couple of big events for Black Hills Parent are held in April: the Bump & Baby expo (link) and Summer Camp expo (link). These vendor shows are a great way for families to get connected to area resources.
• We also hosted our first-ever marketing panel of media experts. We had been getting a lot of questions from advertising partners on what is better – so we brought representatives from area TV, Print, Radio, and digital together to answer business owners' questions.
May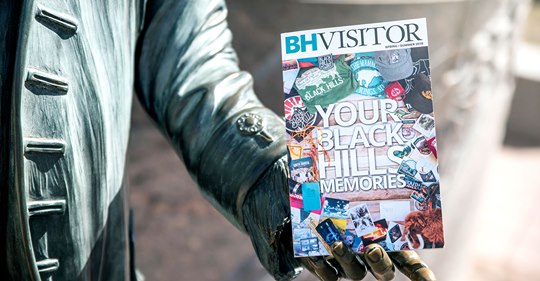 • We designed our FIRST political campaign. (View Here) Wow! What a different pace for our team to be on such a close race. Although it did not win, it sure looked good.
• 2019 presented an opportunity to create a new look for BH Visitor. Ditching the usual beautiful landscapes and attractions, we decided to take a more abstract approach, and we loved how it turned out! (Read More)
June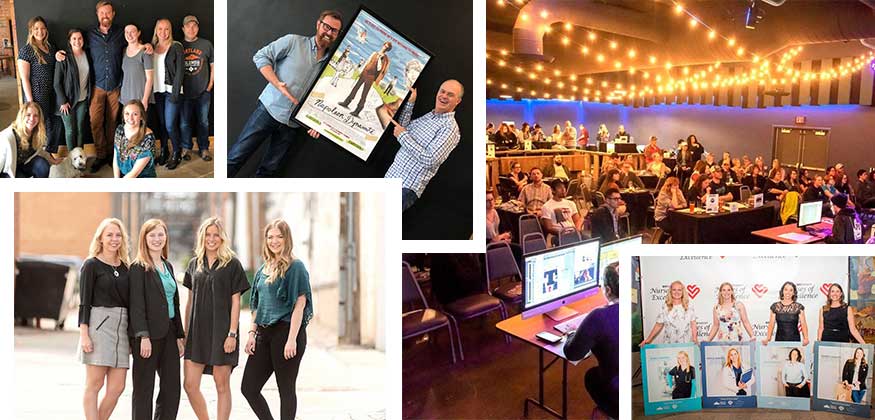 • New interns started! (All FOUR of Them!) Our team launched a beta test on a new internship program we will be implementing in the summer of 2020. We brought on four communication interns and taught them what we know. But there was a catch! It wasn't JUST an internship. Together, the four EGMinis worked to create a project and a pitch to our team. Here's what they had to say about their time here: (Sarah) (Sydnee) (Sophie) (Hannah)
• For the third year, Black Hills Parent featured nurses in the Black Hills who have gone above and beyond their responsibilities to show excellent care. (Read More) The Nurses of Excellence Awards were held at the Dahl Arts Center and the event was a fabulous night for everyone. (View Photos)
• We are proud to be friends with Napoleon Dynamite producer Sean Covel and his pup Tim Finnegan. After filming for Porter the Hoarder at our offices, the newbies got to play fangirls (and guy) and took a photo with him.
• To support creatives in the Black Hills, Evergreen Media proudly sponsored the AAF-Black Hills Design Jam by contributing professional photography. It was such a fun night, and we can't wait for next year! (See More Photos)
• In June, we celebrated the launch of the Alpine Inn's website. A collaboration between design, web development, and photography made this project a huge success. (Take a Look!)
July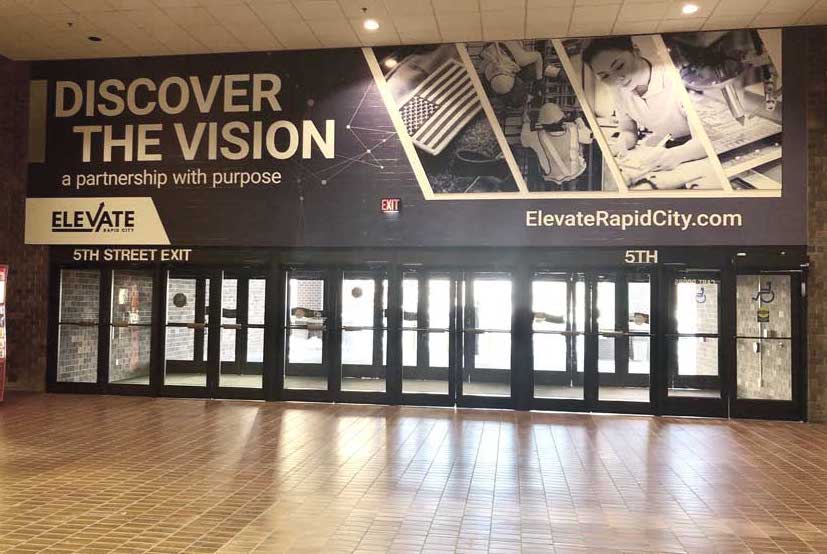 • Jenna spoke at SDCEO – a Women's Entrepreneurial Workshop – in July, sharing her knowledge about social media platforms Instagram and Pinterest. (See Photos)
• A BIG highlight of July – no pun intended – was seeing our Elevate Rapid City design plastered on the wall at the Civic Center.
• In addition to launching a new look for the new organization, Evergreen Media also launched Elevate Rapid City (link) and Rapid City Economic Development (link) websites.
August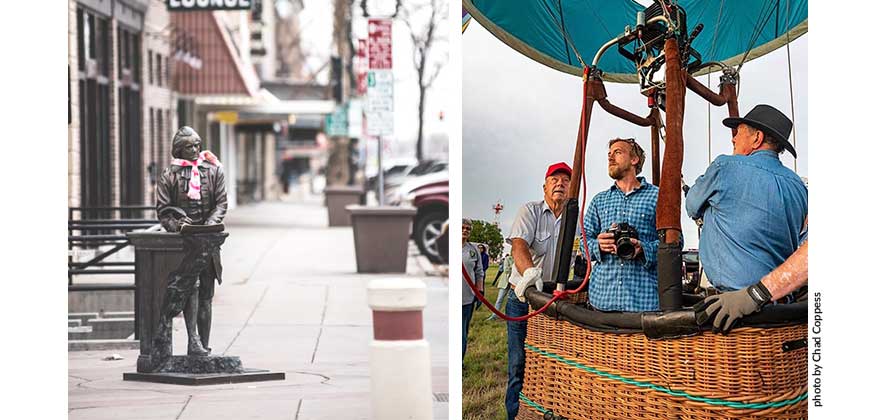 August was a month of photos for staff photographer Jesse Brown Nelson. Not only did he get to fly up in the sky on a balloon at the Fall River Hot Air Balloon Festival (See Photos Here), his photo of the presidents dressed for winter was featured in a printed issue of Reader's Digest. (See Photos Here)
September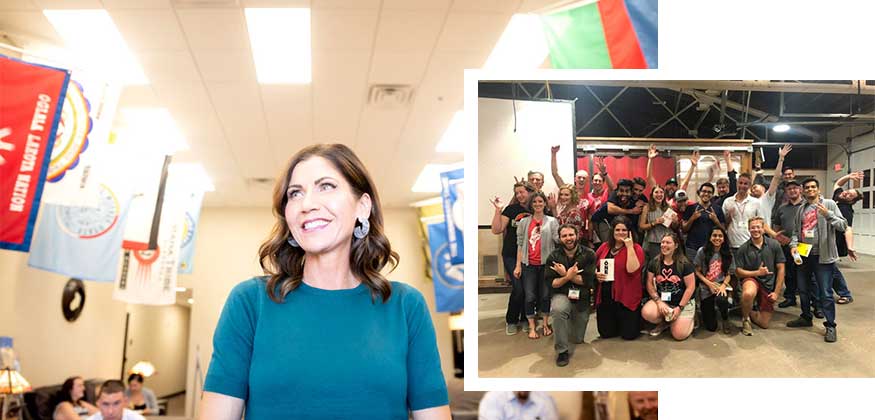 • Jesse photographed SD Governor Kristi Noem at the Elevate Rapid City Economic Development groundbreaking for Signify Health and came up with this amazing shot.
• We also hosted Startup Weekend (again) in September (View More Photos)
• Jenna was featured in the September issue of the BHSU Alumni Magazine for her work at Evergreen Media. (Read it Here)
October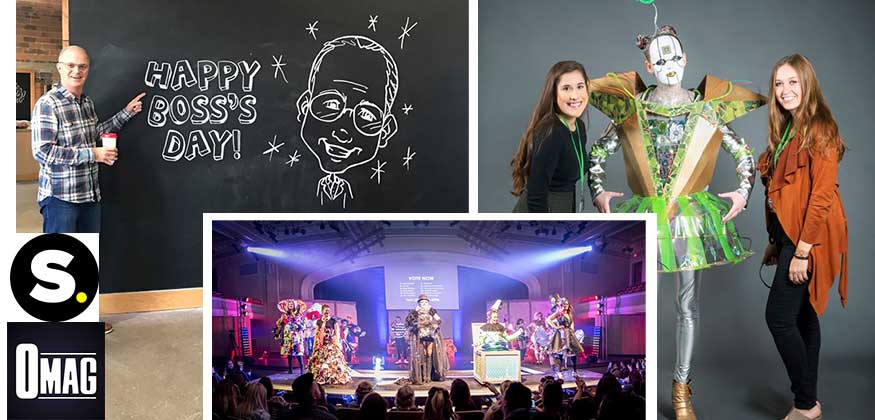 • One of the largest events Evergreen Media hosts is Raw Couture – an abstract fashion show that gives back to a nonprofit. This year, the theme was Forgotten Toys and it was a hit! (View Photos Here) Thanks to Alix and John for their model coordination backstage, and Jen for all her work with organizing over 400 tickets! (Watch the Show)
• We have been working with Ascent Innovation for the past year, and this October, we got to celebrate with Terri, Mitch, and community leaders at the Ascent Groundbreaking. (View Photos) Not only was it fun to see our program designs on the tables, Mark wrote a proclamation for Innovation Day which was read by a city official! (Watch it Here)
• Even though he's a big deal every day, October 16th is Boss's Day. So, we celebrated! Chris drew a massive caricature of Rick on our chalk wall, and the team enjoyed caramel rolls and cinnamon rolls with the Boss.
• Once a year, team members of Evergreen Media meet up with a couple of other publishers in the Midwest to talk trends, business strategies, and overall goals for the new year. It has been such a great conversation we truly appreciate being a part of. Who knows….maybe we'll partner up on a project soon… 😉
November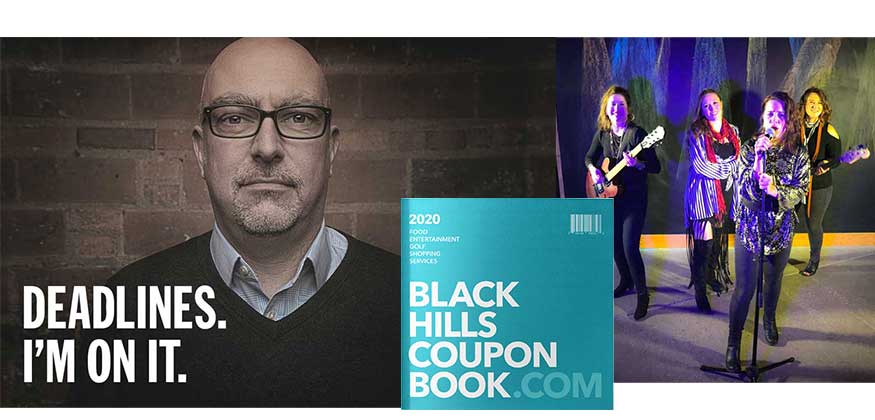 • November is the Month of Deadlines for the EGM team. (It's also the time the Meth Campaign for South Dakota hit media outlets around the country…) We have back-to-back deadlines a couple of times each week for our titles in addition to special projects with clients.
• However, we were happy to recorded our first music video! Coordinated by Jen and filmed by Jesse, we formed an 80s girl band and sang to the song "Walk Like an Egyptian" for Safe Families for Children's Lip Sync Battle fundraiser. (Watch it Here)
• Impact's December issue, Southern Hills Vacation Guide, and Black Hills Parent's winter issue have all gone to print. And let's not forget about the Black Hills Coupon Book! This beauty has more offers in it than ever before thanks to Alix, got a new cover thanks to Chris, and is going to be offered on a newly designed website in 2020.
December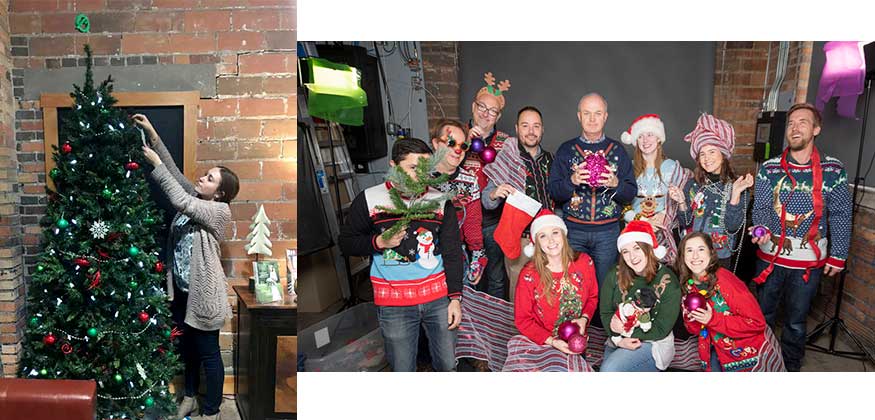 And here we are. Decorations are up, and it's December.
• The beginning of the month is all about Black Hills Bride – our annual wedding publication which is celebrating year 11 in 2020. This practical guide for couples getting married in the Black Hills is a true collaboration piece when it comes to finding real, local weddings. Want to see the cover?? Follow us on Facebook! It will be revealed on January 2nd.
• We are looking forward to holiday celebrations as a team, and welcoming 2020 with open arms.
Happy Holidays, everyone!
~ Rick & the EGM Team